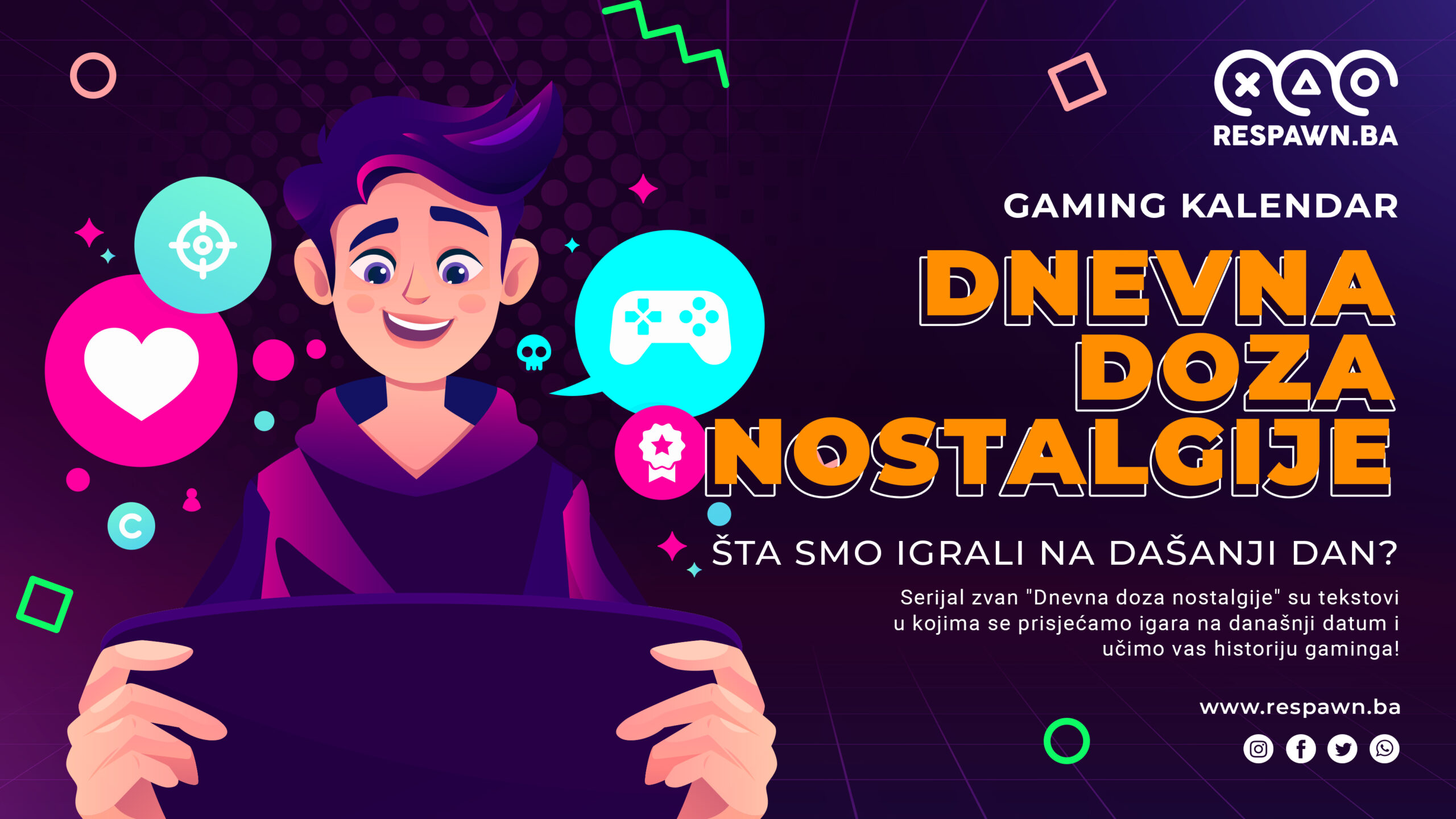 by in
Serijal zvan "Dnevna doza nostalgije" su tekstovi u kojima se prisjećamo igara na današnji datum i učimo vas historiju gaminga!
Otkada postoji gaming te otkada ljudi igraju video igre, iskustvo zabave pred računarom i konzolama ostalo je kao, ako ništa drugo, sjećanje na dio djetinjstva kada su ga videoigre oduševljavale. U toj dobi smo na čitavu stvar gledali puno jednostavnije i dajući im puno veću šansu da ostave trajni utjecaj.
Generacija gamera, koja više ne igra video igre, ih je zapostavila svojevoljo iz njima poznatog razloga. Međutim, i oni također imaju igre koje su ih impresionarale u mlađim danima, iako im ne daju preveliku važnost. Vjerovatno su ih smjestili u historiju kao i omiljene igračke. Za nas ostale koji se još uvijek igraju situacija je u temelju drugačija. Naslovi koje smo iskusili u nekom presudnom razdoblju života uvijek će ostati u sjećanju kao posjetnica kakve su igre bile u nekoj drugoj eri. Pa da vidimo šta je izašlo sve na današnji dan.
ŠTA JE IZAŠLO NA DANAŠNJI DAN?
PRIJE 26 GODINA (1995)
Super Nintendo
Tetris Attack (Japan)
PRIJE 18 GODINA (2003)
PlayStation 2
WWE SmackDown! Here Comes the Pain
PRIJE 16 GODINA (2005)
PlayStation 2
Ultraman Fighting Evolution Rebirth (Japan)
PRIJE 13 GODINA (2008)
PlayStation 3
LittleBigPlanet
PRIJE 12 GODINA (2009)
Xbox 360
Forza Motorsport 3
PC
League of Legends
PlayStation 3
Ratchet & Clank Future: A Crack in Time
PlayStation 3
Tekken 6
PC
Torchlight
League of Legends (LoL) je videoigra koju je razvio i objavio "Riot Games" za Microsoft Windows i macOS. Inspirirana je Warcraft III: The Frozen Throne modom Defense of the Ancients. Igra je besplatna, a prihod ostvaruje mikrotransakcijama. U samoj igri, igrači preuzimaju ulogu šampiona (champion) sa jedinstvenim sposobnostima i moćima (abilities), koji se kao tim bore jedni protiv drugih – ili protiv računalno kontroliranih šampiona (botova). Cilj igre je uništiti "Nexus" protivničkog tima, koji se nalazi u srcu protivničke baze, i zaštičen je raznim strukturama (structures) koje se moraju uništiti.
Postoje i drugi načini igre, drukčijih ciljeva, pravila, i izgleda (gamemodes). Svaka pojedinačna igra (match) je jedinstvena: svi championi su na početku slabi, a kroz tok igre sakupljaju iskustvo (experience) i zlatnike (gold), kojim kupuju predmete (items) koji ih čine snažnijima. Championi spadaju u mnoštvo klasa i obnašaju razne uloge. Umjetnički su zamišljeni kao spoj raznih fantastičnih elemenata, poput srednjovjekovnog mačevanja, magije, steampunka, horora i drugih. Iako priča nije dio igrivih elemenata, različiti championi upotpunjuju velik i nedovršen fikcijski svijet naziva Runeterra, koji Riot Games ažurira svaka dva tjedna i upotpunjuje kroz priče, stripove, video-animacije i knjige.